SF-7400 | SF-3400Ⅱ
Transducer : SF-7400

Transducer is compatible with large tools, such as chisel and knife shapes, to assist high-power manual operations, including stripping exterior building walls, and rust removal. Hand switch: Push-button type.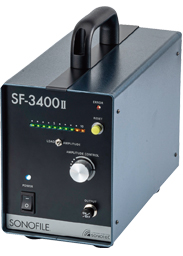 SF-3400Ⅱ specification click here
Specifications:SF-7400
| | |
| --- | --- |
| Frequency | 22kHz |
| Cord length | Up to 10 m |
| Housing material | Resin (Duracon) |
| Weight | 340g |
| Hand switch | Push-button type |
Applicable Materials
| | |
| --- | --- |
| | sheet, film |
| | stripping exterior building walls, rust removal |
Click here to download the dimensions and catalogs
Click here to apply for a test cut and Inquiries
Apply for test cut by fax
Apply for a test cutting by phone
Period of acceptance weekdays from 9:00 a.m. to 5:00 p.m.(Japan time)
Oscillator:SF-3400Ⅱ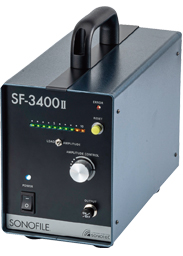 High-output cutter for manual operation: Assisting manual operations with clear cutting
This is a high-power ultrasonic cutter featuring the ultrasonic power output of 220 W. The tool's ultrasonic vibrations at a frequency of 22 kHz (22,000 vibrations per second) drastically reduce the cutting resistance. Varieties of materials can be cut even more rapidly and cleanly with a lower processing pressure. A function to enable constant monitoring of loads during cutting was added anew, thereby ensuring added safety and user friendliness.
Features
The output adjustment can be done in step-less and continuous manner from the minimum to the maximum levels
The constant amplitude circuit always keeps vibrations at stable amplitude.
The overload protection circuit is featured.
Force air cooling is possible by installing the air inlet (SF-3140).
Specifications:SF-3400Ⅱ
Frequency adjustment
Automatic tracking type
Maximum output
220W
Output adjustment
Step-less continuously variable type
Power requirement
Single phase
100 VAC or 200 VAC, 50/60 Hz
Power consumption
500VA
Outer dimension

(mm)

142W × 294D × 210H
Weight
4.5kg
Transducer combined with SF-3400Ⅱ
Combination transducers
Frequency
Applicable materials
SF-7400
22kHz
SF-3140
22kHz
※画面を指でスライドすると表組を横にスライドできます。