FAQ
Product Warranty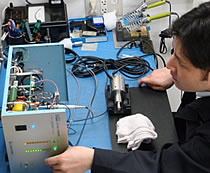 The warranty term is one year after product delivery.
Strict in-company inspection is performed on all of our products. However, in the event of product failure, please provide us with its condition, model number, and serial number.
Troubleshooting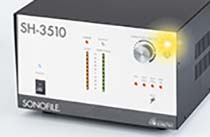 Please read thoroughly an instruction manual when you have problems
If you still have any problems, please contact us and let us know the type of equipment you are using and its problems.
Frequently asked questions
What materials can/cannot be cut by ultrasonic cutters?
Materials that can be cut by ultrasonic cutters are thermoplastic resins, plastics, rubber, cloths, paper, corrugated cardboard, foamed materials, and foods. Sections obtained by ultrasonic cutters are much smoother than those obtained by ordinary cutters. Cutting with less workload can be realized.
Can ultrasound be heard?
It is said that the upper limit of frequencies which can be heard by the human ear is approximately 20 kHz. The frequency of SONOTEC's oscillators is above 25 kHz. Therefore, young people about 20 years old and people with excellent audibility may hear the ultrasound (audibility declines with age). If you are anxious about hearing ultrasound, noise insulation materials can prevent this.
What about waste during processing, such as cutting chips?
Unlike processing using water-jet cutting, ultrasonic cutters do not wet materials and discharge cutting chips and foul water. Unlike processing using laser cutting, ultrasonic cutters do not emit noise and smoke and cause air contamination. Thus, ultrasonic cutting is an environment-friendly processing method.
What is the blade life?
The blade life differs according to material, shape of the work-piece, and processing method. The blade should be changed once every few months when cutting materials with small wear rates, such as rubber. The blade should be changed once every few days when cutting materials with large wear rates, such as materials containing glass fiber.
Is continuous use possible?
When general ultrasound processing tools are continuously used for a long period of time, heat accumulates in the transducer and the jointing section of the blade and results in malfunction. SONOTEC's transducer can be continuously used for a long period of time by supplying air for cooling.
How can I select a model suitable for my work?
When selecting a model, our special staff will propose the mode most suitable for your work based on the characteristics of the work and the thickness of the material to be cut. Combining blade with frequency requires technical skills and experience. Please feel free to contact us. Free test cutting is also provided.
What is the maximum thickness of materials that can be cut?
In general, the maximum thickness of materials is approximately 20 mm (the maximum blade length is 25 mm). However, it depends on the material. Please try a test cutting of your material.
What about connection with an automated machine?
Since our oscillator is equipped with terminals for external input and output (excluding some models), ON/OFF operation can be performed from the outside. Error signals are also output to the outside.
What is required for running and maintenance?
Blades, blade holders, and square-headed screws are expendables. The blade should be changed when it is broken or worn. We recommend changing the blade holder once every three months−two years, depending on usage. The blade attachment screw should be changed when the blade is changed, or at least once a month. For maintenance, the slit part of the blade holder should be cleaned when the blade in changed, and the oscillator filter should be cleaned once a month.