Ultrasonic Polishing
Ultrasonic Polishing SONOFILE
The ultrasonic polishers apply ultrasonic vibration to tools—such as diamond files, abrasive stones, or ceramic abrasive stones—and realizes fast and effortless polishing work with beautiful finish. They constantly produce intense ultrasonic vibrations, regardless of the thrust force or type of the tool.
Features of SONOFILE
The amplitude of ultrasonic vibration can be adjusted to 15 levels (displayed by 10 lighting levels). The unique amplitude control circuit accurately sustains the predetermined vibration level. The high-performance automatic frequency-tracking circuit automatically detects differences in shape, size, and length of tools, and starts an operation with an optimal frequency. Moreover, the circuit automatically tracks fluctuations caused by wear of a tool.
Stable control with sufficient power
The vibration state can be maintained at a certain level regardless of great, small, or no cutting resistance to tools. Ultrasonic Polishing equipment quickly responds to load fluctuations caused by fast push-and-pull actions of tools so that a stable vibration can be maintained. Operators do not feel any unpleasantness.
One button switch-over mode
Two modes of the "ORDINARY TOOL" mode for all-in-one tools, such as diamond files and the vice-gripping mode for ceramic abrasive stones, can be switched over by one button (SF-5600). The strength of each mode is freely adjustable.
Small but easy-to-use and powerful handpiece
Handles any tools from 1 mm in diameter to 15 mm wide. Features an easy-to-hold size (28 mm diameter) and a well-balanced weight (130 g). This small size hand-piece was designed for excellent durability.
Compatible with narrow rib slot polishing
A tool required for polishing deep and narrow rib slots is prepared as a standard tool. Special tools can also be designed and manufactured.
Process Examples
Polishing a rib slot (electric-discharge machined surface)

This is a typical example of using ultrasonic Polishing. Contact the tool with a rib slot sufficiently, and slide it while pressing it softly (minimum slot width, 0.2 mm; depth, 70 mm).

Polishing a base surface

Although the hand cannot feel it, the tool vibrates ultrasonically. Even a difficult-to-operate surface can be polished by merely sliding the tool over the surface.

Mirror finish of a fine part

The tool's favorite operation is lapping of fine parts. Even a toothpick can be an important tool using diamond paste and mild vibration. This tool can also be used for deburring and chamfering.
List of all the SONOFILE Ultrasonic Polishing products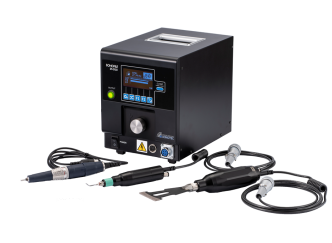 From roughing to finishing, all in one machine!
High-powered polishing machine with the industry's largest output of 100W, enabling grinding with rotary tools & ultra-fine processing with nano-mode.
Combination Transducers
Tool screw diameter

HP-7405

(Large-sized transducer)

M8

HP-9705

(Small-sized transducer)

M6(Comes with M4 adapter)

EX131

(Motor handpiece)   

-
SF-0103 Option
Foot switch

It is a foot switch to switch over ON/ OFF of ultrasonic oscillation and motor hand piece. It turns ON while you are stepping on it.
Part No. 7116

Foot controller

The rotation speed of the DC motor handpiece can be adjusted. The strength is controlled depending on the degree of depressing the foot controller. (Do not use for ultrasonic control.)
Part No.7077

Transducer connection cable

The cable to connect old transducers HP-9701/HP-7401 to Oscillator SF-0103
Model number : 7055
Applicable Oscillator : SF-0103
Applicable Transducer : HP-9701 HP-7401
Definite Edition of Simple Ultrasonic Polishing
This model can use M4 and M6 tools
Combination Transducers
Tool screw diameter

SF-9706

(Small-sized transducer)

M6(Comes with M4 adapter)