Carbon prepregs (CFRP / CFRTP)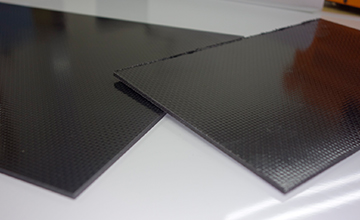 CFRP stands for Carbon Fiber Reinforced Plastics. It is a composite material made of carbon fiber that has been impregnated with a thermosetting resin and formed by curing. Ten times as strong as steel but only one-fourth as heavy, it combines the advantages of metal, such as strength and stiffness, with the ability to make lightweight products. Carbon fiber reinforced plastic is used in a wide variety of industries, including aerospace and automobiles. Machine tools are often used for cutting of carbon prepreg, CFRP (CFRTP) but our ultrasonic cutter can cut the material well.


Common uses of Carbon
Aerospace(Fuselage)
Automobile(Instrument panel, Bumper, Air back, Weather strip, Ceiling material)
Bicycle(flame)
Robot(Arm)
Sports(Fishing rod, Racket, Golf shaft)
Energy(Hydrogen tank, Windmill)
Examples of cut by ultrasonic cutter
Carbon fiber cutting.
Carbon fibers are fibers composed of carbon.
Blade can cut carbon fiber into each one without being caught by the fiber.
Carbon prepregs cutting.
Carbon prepreg is carbon fiber that has been impregnated with resin. It is used as an intermediate material for a wide variety of applications, including aircraft, automobiles and infrastructure.
Un-cured carbon prepreg 12.41mm can easily be cut in vertical and diagonal directions.


Carbon Fiber Reinforced Thermo-Plastics cutting.
CFRTP(Carbon Fiber Reinforced Thermo-Plastics)is also called thermoplastic CFRP, is a composite cured-formed using thermoplastic resin instead of thermosetting resin as the impregnating material.

Video of 2mm CFRTP being cut and cross-section.
Products for Carbon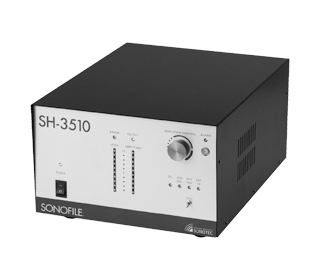 High-power Ultrasonic Cutter featuring Maximum Output of 500 W
The oscillator with a maximum power output of 500 W enabled powerful cutting of difficult-to-cut and extra-tough work pieces. Abrasion resistant carbide blade with 1 mm thickness can be used. Exchanging signals for on/off, emergency stop, change of output level, and other features with automated machinery or industrial robots is, of course, possible.
Machine / robot-mounted type
Manual-type hand piece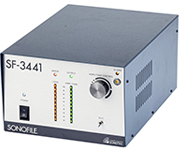 Standard Model for Use with Automated Machinery
This ultrasonic oscillator is capable of exchanging signals with the main units of automated machinery, industrial robots, plotters, etc., for operations, such as turning on/off, emergency stop and switching the output level.
Machine / robot-mounted type
Manual-type hand piece
Combination transducers
Frequency
Applicable materials
SF-8500RR
22kHz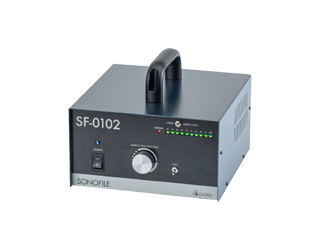 CE-compliant, versatile manual-type ultrasonic cutter
This is a manual type ultrasonic cutter, which daringly pursued nice Features
user-friendliness. It is provided with a portable handle and storage
rack for use at various jobsites. It is best fitted for a wide range of
applications including carbon prepregs, resins, rubber, and fabrics. For
safety measures, the activation of ultrasonic vibration is reported with
illumination and sound. The product complies with the CE Standard.
Combination transducers
Frequency
Applicable materials
HP-2200
22kHz