Circuit board repair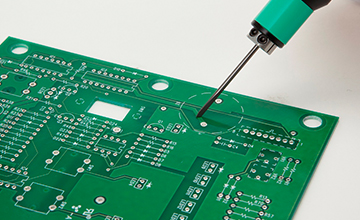 Split-V eases cutting force with high speed micro oscillation (25000 times per second), the pressure against the tool is kept low. Moreover, the oscillation may not propagate itself to the handle, fine, precise and rapid work is possible. There are wide variety of tip tools for each processing pattern, tungsten carbide tools with the blade best-fit for each processing can be used for wide-space cutting, inter-line cutting, inter-line bridge fixing or cutting after parts implementation, and ceramic tools can be used for removing resist film.
Common uses of Circuit board repair
Pattern cutting
Bridge fixing
Pattern fixing of the print base
Examples of process by Circuit board repair
It is pattern fixing of the print base.
This video is pattern fixing of the print base by Split-V
Products for Circuit board repair