COLUMN
Ultrasonic Cutter / Polisher columns
Ultrasonic Cutter Quality
Experimental overview
Changes in the cutting resistance applied to the blade were investigated by the presence or the absence of ultrasound and the changes in the parameters of the amplitude value, the cutting speed, and the vibrator tilt angle.
Experimental model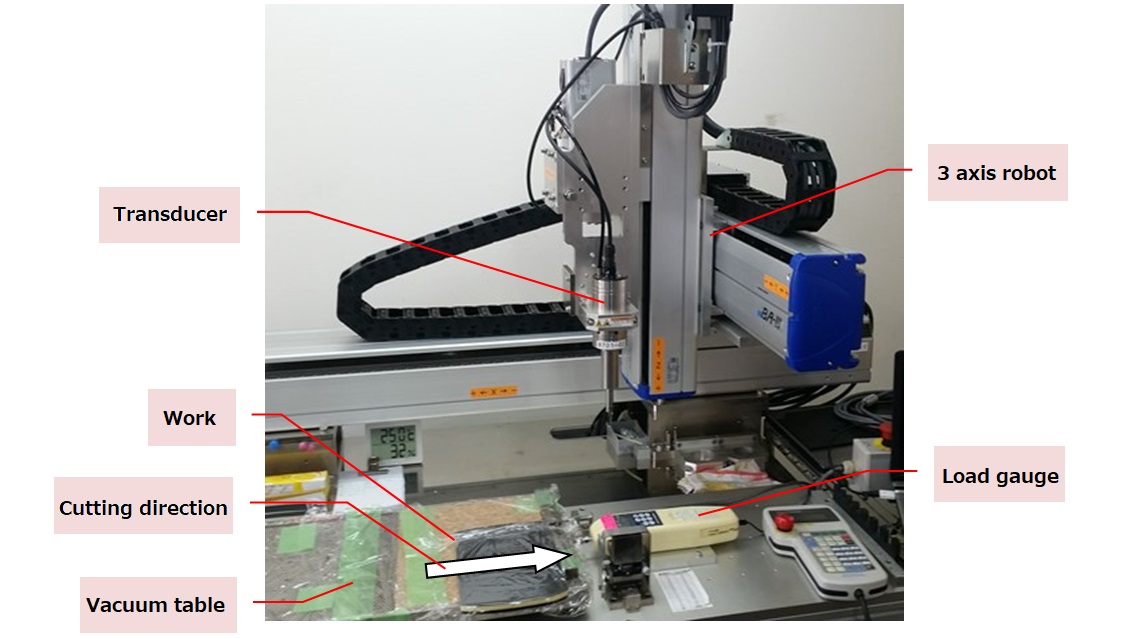 <<Experiment was conducted under the following conditions>>
Oscillator:SH-3510(500W)
Transducer:HP-8701(24kHz)
Blade:FB-0231-6L(Tungsten carbide)
Amplitude:0%(No ultrasonic)~ 100%
Cutting speed:50mm/sec ~ 200mm/sec
Transducer angle:0°~ 30°
Material:PP(Polypropylene)
Thickness:3mm
Experimental results

Fig.1 Transducer tilt angle and cutting resistance(*Amplitude value is all 100%)

Fig.2 Amplitude and cutting force (*Transducer tilt angle is all 30°)
Conclusion
From the results shown in Fig.1, it is observed that cutting resistance applied to the blade is smaller when the transducer is tilted.
From Fig.2, it is observed that the cutting resistance is nearly tripled by the presence of ultrasonic wave compared to its absence as is shown in the result that at time of 50mm/sec the cutting resistance without ultrasonic wave was about 195N, whereas the cutting resistance with ultrasonic wave (100%) was 67N.
Watch sample cut video of
ultrasonic cutter
Please send your sample. After the test cut is completed, you will receive a video and data taken during the cutting process along with the sample cuts.
Do you have any troubles about Ultrasonic cutters or polishers?