COLUMN
Ultrasonic Cutter / Polisher columns
Ultrasonic Cutter Mechanism(regarding blade)
Blade material
There are two types of blade materials, "High Speed Steel" and "Tungsten Carbide"
Compared to high-speed blades, tungsten carbide blades have high rigidity and durability, but since they are heavy, the burden on the oscillator increases.
The thickness ranges of blades are from 0.4mm to 2.0mm and others.
※A thin blade cuts material well, but it is easy to bend and break. Thick blade is hard to bend and break, but its sharpness is inferior.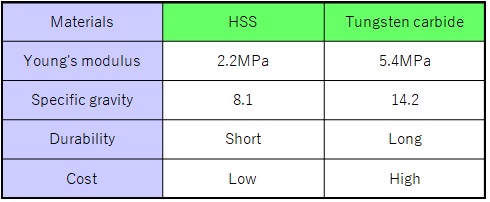 Shape of blade
The shapes of blades of "SONOFILE" are designed to oscillate well in the axial direction. The oscillator is also adjusted so that it can be optimally controlled in that state. The blade or holder cannot be changed freely to a different shape.
In case of considering the change in shape of the blades or other tools, please contact us and decide the optimal blade. *Please be noted that we do not guarantee anything when blades or tools other than our products are used.
Standard shapes of blades

Shorter blades than standard

length of blades

Longer blades than standard

length of blades
Custom-made blades
We will produce custom-made blade when suitable blade cannot be found in standard blades.
Through designing with oscillation analysis and confirmation on actual condition of oscillation, we propose optimal blade while consulting with user.
| | |
| --- | --- |
| <<Before optimization>> | <<After optimization>> |
<<Before optimization>>
The right and left runouts are large, there is a possibility that abnormal sounds might be generated and the cutting edge might be broke and flew off. In addition, it may lead to breakdown of the transducer.
<<After optimization>>
The right and left runout is suppressed, and the stable oscillation is generated.
Watch sample cut video of
ultrasonic cutter
Please send your sample. After the test cut is completed, you will receive a video and data taken during the cutting process along with the sample cuts.
Do you have any troubles about Ultrasonic cutters or polishers?