Sonocraft ST-60 SR-9500(Discontinuation)
This product was discontinuation.Repair correspondence is possible.
| | |
| --- | --- |
| SONOCRAFT : | ST-60 |
| (Oscillator) & | SR-9500 |
| (Transducer) | |
| | | |
| --- | --- | --- |
| Oscillator : ST-60 | | Transducer : SR-9500 |
SONOCRAFT is an ultrasonic hand tool for chiseling, stone mounting, and surface polishing of precious metals. The tool's longitudinal ultrasonic vibration realizes the effect which is usually obtained with a hammer. Minimal and invisible vibration is conveyed to the hand.
Oscillator : ST-60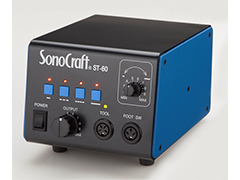 This small and lightweight but powerful model with a maximum power output of 40 W guarantees stable ultrasonic vibration with an amplitude control circuit. The vibration pattern can be selected from four modes: the one-shot vibration mode is for prong making, the intermitted vibration mode is for reinforcement, and the continuous vibration mode is for surface polishing.
ST-60 Specification
Frequency adjustment
Auto-tracking type
Max. power output
40W
Power output adjustment
Infinitive adjustment
Power supply
Single phase
100 VAC, 50/60 Hz
Electricity consumption
120VA
Outer dimension
145W×180D×125H (mm)
Weight
1.9Kg
Transducer : SR-9500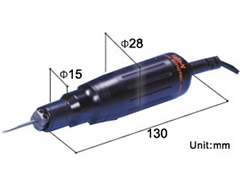 The hand-piece is easy to hold, and very little vibration is conveyed to the hand. The unique tool holder ensures smooth vibration, and excellent engraving can be attained. The hand-piece can be used continuously for a long period of time. A light step on the foot switch lets you turn off the hand-piece hands-free.
SR-9500 Specification
| | |
| --- | --- |
| Frequency | 25kHz |
| Vibration element | PZT piezoelectric transducer |
| Tool attachment | screw |
| Housing material | resin (polyoxymethylene) |
| Cord length | 0.6mm curled cord (extended to 1.5m) |
| Weight | 130g (excluding cord) |
Standard Accessories Tools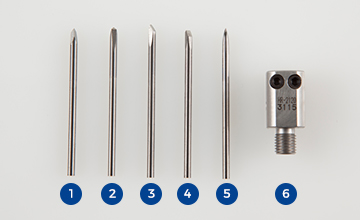 ① Tungsten Chisel (V type 60°)
② Tungsten Chisel (V type 90°)
③ Tungsten Chisel (Diagonal blade)
④ Tungsten Chisel (Cylindrical type)
⑤ Tungsten Chisel (Cone bulge)
⑥ Tool Holder